7 day money back guarantee*
*subject to full system being returned in resellable condition.
The award-winning alternative to clipless pedals
Simply step in and step out of your pedals, without being fixed to your bike. A form-fitting connection keeps the cleat plate engaged with the pedal.
Bythlon empowers cyclists to ride better, smarter and safer, whilst building confidence in the saddle.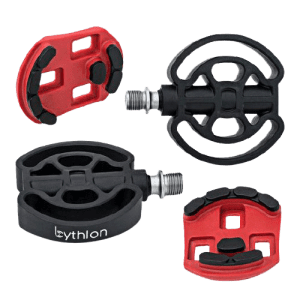 Cycle Style
Goodbye trainers, hello cycle shoes. Feel and look the part.
Versatile
Suitable for all road bike shoes with 3 screw connections.
Light & Durable
The 3.5oz pedal is lightweight and protected from the elements.
Safe
Protect yourself, prevent accidents and ride with confidence.
Easy to use
Simply step in and out of the pedal without being fixed to the bike.
Push your limits
Challenge your PB, improve your skills and reach your potential.
Who is Bythlon suitable for?
Commuters who want to navigate the dangerous start-stop journey through city streets securely, without feeling restricted.
Cycling enthusiasts who want the high-performance, professional experience of cleats without the fear of being locked in to the bike.
New and emerging cyclists who want to learn the athlete's experience safely and with confidence.
Cyclists who want to switch instantly between serious cycling and relaxing, weekend family rides.
Stay tuned.
Subscribe to our newsletter to join the Bythlon cycling community.
I've been riding with the pedals for about a week and I just love them. They keep your feet in place, but you are not locked in when you need to stop quickly. I have been looking for clipless pedals like this and I'm glad someone finally made them. Thanks!
I have had the pedals for a few days and used them for about 50 miles with a mixture of off road and road use. I think they are absolutely brilliant so much better climbing than flats and your feet don't come off the pedals on rough terrain, yet so easy to pull out of when things go awry !! Would never go back to clipless.
Was initially a bit skeptical about these pedals as they aren't cheap. Having now tried them I'd say they're worth every penny simply for the peace of mind they offer that you can take your foot out easily, whatever position your foot is in! Plus, your foot is nice and secure on the pedal and won't slip off, as with flat pedals. I did try cleats a few years ago. I had a few of the seemingly obligatory 'Del Boy' sideways topples at first, but even afterwards found I was not enjoying my rides. Highly recommended.
I started cycling in London for commuting – serious cyclists said you'll need cleats, as the next logical progression. I tried SPDs and promptly fell over with wrong foot released at the traffic lights. The next incident gave me a broken elbow. So that was the end of that – until I saw Bythlon. The power of cleats but able to get out without thinking about it – What a game changer! The pedals ooze quality, beautifully machined and sturdy. If there are any other cyclists like me whose brain does not seem to engage in time with unclipping then these are perfect.
Purchased and had a very quick delivery – I have never ever cleated in before as to anxious- so fixed pedals on easy and the cleats onto new road shoes and off I went for a 23 mile practice ride – absolutely love these cleat/pedal system easy in and out ,slight magnetic pull didn't take too long to get used to them. Would highly recommend.
Postage was amazing and they arrived only a few days after I purchased them. Great packaging and instructions. The pedals were easy to fit to my bike. I felt very comfortable at junctions as I could just lift my foot up and  straight out.. they were fabulous on the hill climbs too. I would recommend the Bythlon clipless system if you've been unsuccessful in using cleats these are the pedal for you!